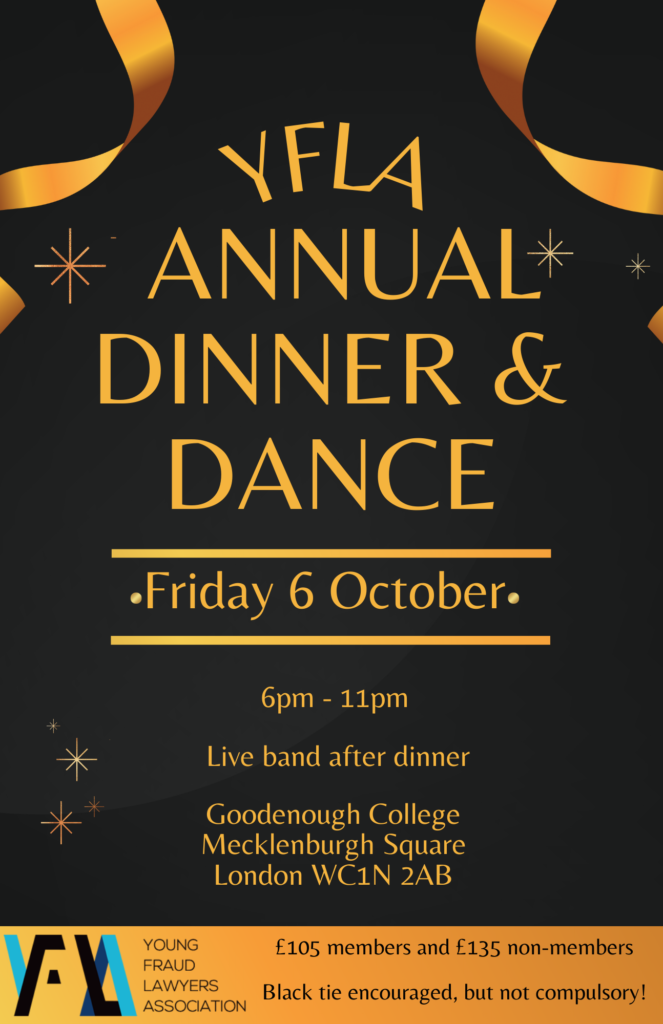 You are cordially invited to our Annual General Meeting, followed by a gala dinner and dance featuring a live band, to bring the 2022/2023 membership year to a fitting close.
The event will take place on Friday 6th October 2023 at Goodenough College's beautiful hall. Tickets are strictly limited and available to purchase until 20th September 2022 through our website. Tickets are £105 for current YFLA members and £135 for non-member guests. 
The evening will kick off with a sparkling reception at 6pm, followed by a sit-down three-course meal at 7pm (as is tradition!). It should be a great evening, with plenty of opportunity to catch up with friends and peers, make new acquaintances, and, most importantly, let your hair down!
The dance floor will open after dinner with a performance by our favourite cover band Truly Medley Deeply. All the above is included in your ticket price, including drinks throughout the evening.
As always, black tie is encouraged but not compulsory. Don't forget your dancing shoes!
Looking forward to seeing you there.
Menu Options
Menu 1 (Meat/Fish):
Starter: Smoked salmon, crème fraiche, cucumber ribbons, roasted beets
Main: Slow braised beef cheek, carrot puree, dauphinoise potato, soft stem broccoli, red wine jus
Dessert: Lemon and orange tart, raspberry coulis, vanilla crème fraiche
Menu 2 (Vegetarian):
Starter: Heritage tomato salad and boccocini tart with basil dressing (V)
Main: Sumac roasted cauliflower, sunflower butter, chickpea fritter, pomegranate and herb salad (VG)
Dessert: Lemon and orange tart, raspberry coulis, vanilla crème fraiche (V)
Other Dietary Requirements / Allergens
If you have any other dietary requirements (including vegan) or allergies, please notify us in the box below.
To purchase member tickets - make sure to login first!
Event Details
Goodenough College, Mecklenburgh Square, London WC1N 2AB
Sorry, this event is sold out!.
Please sign up to one of our other events.